A little while ago I was driving up North to Round Rock, and as I was driving on the highway I saw in the distance a beautiful looking church. I wondered what it was, and today I found out by a complete coincidence!
Thanks to
The Roving Medievalist
, I saw
this post
on The Cafeteria is Closed about a Catholic Church in Austin that went from ugly modern to gorgeous traditional. Just look at the transformation! (Just for clarity, it's not actually the same building, it was built nearby the old church.)
Outside of church before:
Outside of church after:
Inside of church before:
Inside of church after: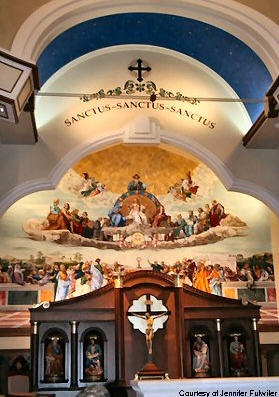 Apparently this is now the largest Catholic Church in Central Texas! We just might have to stop by and visit sometime. Praise God for a renewal of beautiful architecture!