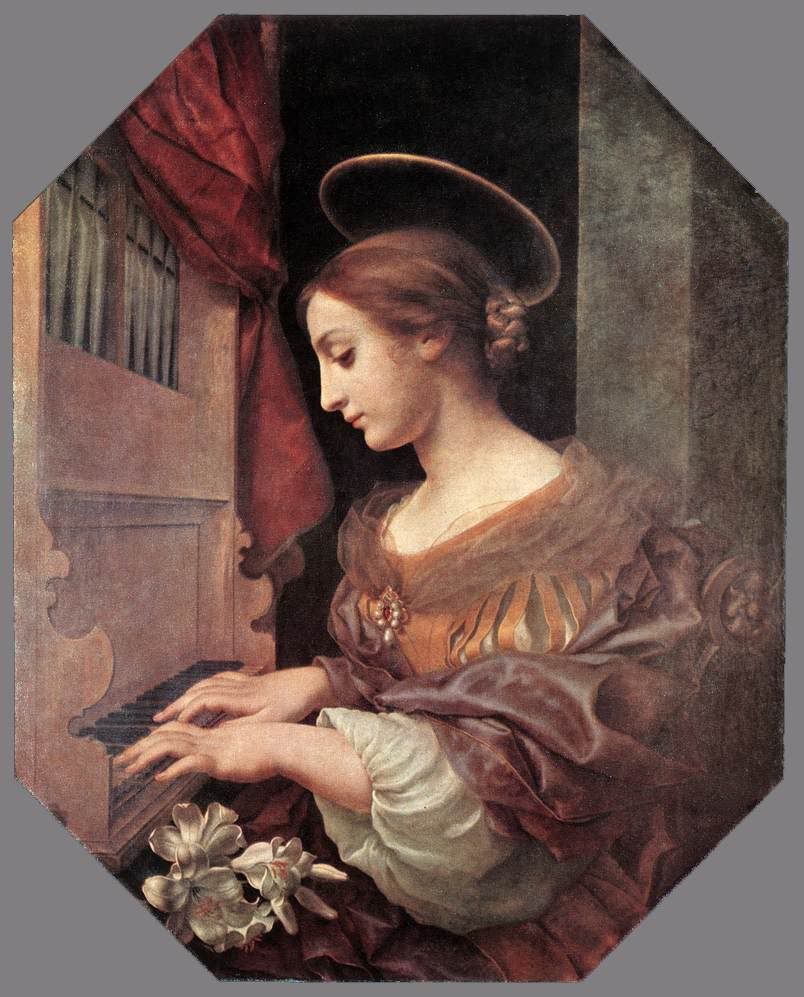 I love my parish, I really do...one of my favorite things is the music. Yes, I'm admittedly a music snob. I just don't like the fluffy Haugen/Haas stuff, it doesn't elevate my thoughts heavenward, it usually just distracts me.
This site
about sums up my thoughts on the matter. (Disclaimer: this does not mean I think people who like it are evil or somehow less-than, it's just my preference.) At my parish, we're so lucky to have a beautiful professional choir, a talented organist, and a wonderful director of music. At the noon mass, we regularly hear gregorian chant, Haydn, Bach, Palestrina, and even some Mozart. *Blissful sigh*...Aahh...music that is nothing less than divine. The hymns are traditional, accompanied by organ only, the congregation actually sings along with the choir, and sometimes I'm even able to break out in harmony, especially if it's a song we sung back in my CoC days. (That's one of the very few things I miss about the Church of Christ...four part harmony written in the hymnals!) It's definitely my cup of tea!
Today, we ended up going to the Sunday evening mass. We go every once in a while when we sleep in on Sunday morning. The music there is very nice too. There's a great classical guitarist who is very good, and usually one cantor who also sings some solos during mass. It's a quiet mass, and very peaceful. Unlike the noon mass, people tend to be a bit more shy about singing. After all, there's no choir and organ to back them up, so it's understandable. Which brings me to my small rant...
There we were, waiting to line up for communion, when the guitarist and the soloist suddenly start playing "On Eagle's Wings," a song that, in my opinion, is more suited for some cheesy broadway play than mass. But it's ok...I grin and bear it. After all, we've heard the guitarist and soloist do "Lord of the Dance" on more than one occasion before. The guitarist and soloist are not overwhelming, so I close my eyes and try to think about Christ with the broadway-sounding tune softly playing in the background, when suddenly I hear....people around me SINGING! "And He will liiiift you up, on eeeeagles' wings..." Wha?? People don't normally sing along with the soloist at this mass during communion, especially when the only hymnal page numbers on display were for the processional and recessional hymns...and on top of that, this song isn't even IN the hymnal we use at our parish!! Why are people singing now when they barely sing the other hymns at all at this mass? After that song was over, "Be Not Afraid" was up next. This one I don't like because of the lyrics, which are written in the first person perspective of God, so that we sing God's part. (See
here
for more about that.) Again, the song isn't even in our hymnals, and again, people around me were belting it out. I was baffled.
Now, don't get me wrong. I don't think there's anything wrong with these people singing along, even though I don't particularly find the songs uplifting...what bothers me is that, in comparison, during the beautiful traditional hymns, for which we have hymnals right in front of us, they were nearly silent. Why? The lyrics from these old hymns are filled with words of such beauty and reverence and obviously Catholic beliefs. The melodies are simple and beautiful and one would think, familiar. But...it is not so. Not to the current generation of mass-goers. Sadly, traditional hymns are rarely played at many parishes. Modern songs dominate the liturgy, songs which are fluffy and annoyingly catchy in the way that pop songs and broadway tunes can be...you know, those songs that get stuck in your head whether you want them to or not. Some of these are songs which are not even always compatible with Catholic teaching, for instance, songs that speak of the Eucharist as if it's merely symbolic. (See
here
for more about that.) So, it seems the catchiness often overrides the content nowadays. In a word, it seems sadly superficial. And these are the only songs people seem to know well enough to sing by heart.
I suppose some of my angst on this matter comes from my CoC background. I grew up in a church that knew how to sing and sing well. Hymns were always sung in four part harmony, and so it was already hard for me to let go of my beloved alto line and stick to the Catholic unison melody. But I can stand that if at least the hymns are meaningful and thoughtful and lift my thoughts heavenward. If they're none of those things, though, it makes me wonder, what's the point? I can sing a content-light catchy tune anytime, while I'm driving down the road, while I'm cleaning my house. But hymns are supposed to be more than that...aren't they? They're supposed to praise the Lord our God and lift our minds heavenward. Perhaps the modern tunes can acheive that for some...but admittedly, I have a hard time understanding how. Nevertheless, I don't blame the people in the pews for liking the catchy tunes, that's understandable. I do blame liturgical directors and music directors, though, who refuse to consider playing anything that might not "entertain" the masses enough. People will never learn to appreciate what they are never exposed to, and by dismissing all the music from the long history of the Catholic Church, save catchy tunes from the last 40 years or so, they are depriving Catholics of so much.
Well, I suppose that's enough blabbing about that. I must say again that I feel extremely blessed to be a part of such a wonderful parish, which provides beautiful, content-rich and divinely inspiring liturgical music that often moves me to tears. Thanks be to God!