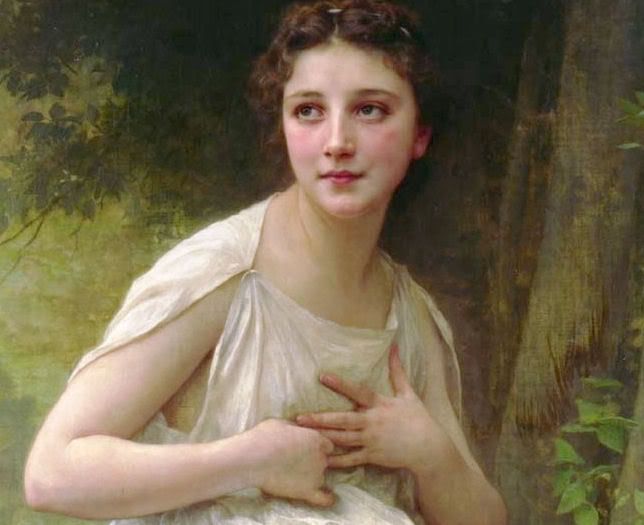 When I was a little girl, I always used to love dressing up in pretty dresses with lots of fabric and flowing skirts. I used to see pictures of times past, when women wore flowing dresses, and wish we could wear them today! My sisters used to joke that I was born in the wrong century. Even today, my tastes tend to lean toward the traditional, toward the classic. I used to wonder why I was so drawn to beautiful things...perhaps I was being too superficial? But I think there's more to it. I can't adequately express the difference I feel when listening to a beautiful piece of music written in the 1600s, and listening to a popular modern tune. Nor can I express the difference I feel when looking at a piece of modern art, and feasting on a classical masterpiece. It just seems there is something more there, in those pieces of visual, musical, and literary art created in times past...it seems deeper, more complex, more beautiful, and, I think most importantly, more true to life, more real. And so I think my attraction to beauty, is really at its deepest level an attraction to truth. It's also partly to blame for my conversion, lol. I once read this article,
I Was Converted by Mozart
, and could completely relate!
A while back, I discovered an artist that moved me in such a profound way, I couldn't stop looking at his works of art! The painting in my title is from him, the painting above is from him as well. His name is William Bouguereau, and he's my favorite artist. I'd never heard of him in any art classes (not that I took many), and yet I find his work so moving, and so REAL. The largest online gallery of his work is
here
, and I also came to love this site itself for its philosophy and stance on modern art, etc. If you want great prints of beautiful art, check it out!
It seems today we're surrounded by superficiality, and it drives me crazy. I crave truth...deep, complex truth. So much of what is created in our modern world seems to be trying to escape reality, and to turn a blind eye to truth. It's shallow and superficial, it cheaply aims to shock, disgust, or sometimes to please, but with an only temporary saccharine sweetness, since it fails to truly move and inspire. But real and lasting beauty can only be found in reality, in truth. These are the pieces of art, of literature, of music that transcend time and touch everyone, regardless of time or place, art that is true, and grounded in reality. To quote Keats, "Beauty is truth, truth beauty. That is all ye know on Earth, and all ye need to know."