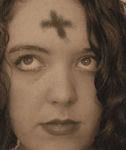 So what are you all doing for Lent?
I'll be giving up sugar (again), that was tough! We'll also be giving up fast food (we've been bad lately!) I'm going to try and pray a rosary each day and start chores, BEFORE checking the boards and blogs.
I hope everyone who is joining the Church at Easter (
Aimee
and
Erik
come to mind!) will relish this time of preparation and fasting. I'll be keeping all of you in my prayers, and I can't wait to share your joy with you at Easter!
Let us pray that this Lent will help us reproduce in our lives the self-sacrificing love of Christ. Amen.