Well we're back and unpacked and settling back in to life as usual. Camille is a bit sad to be away from his mother country after enjoying it so much, but hopefully we'll be returning in the not too distant future!
So, where to begin? We arrived on a Friday afternoon in Paris and had to drive down to Burgundy pretty much right away. The wedding was the next day, and I was playing bassoon in it! (By the way, I had absolutely NO problems bringing my bassoon onto the plane, no one said a thing to me and it fit fine in the overhead bins! I was SO relieved!) It was a bit of a whirlwind the next day, but the wedding was beautiful as was the bride!
(Sorry, some of them are blurry!)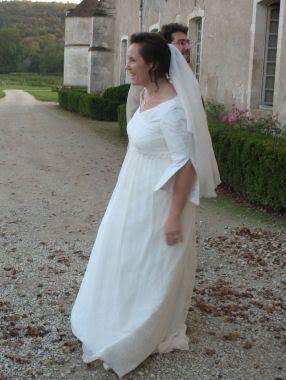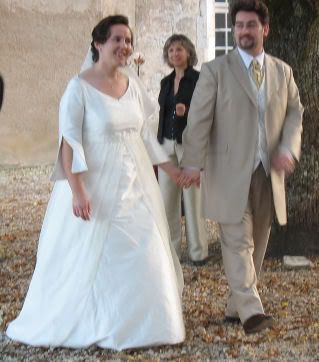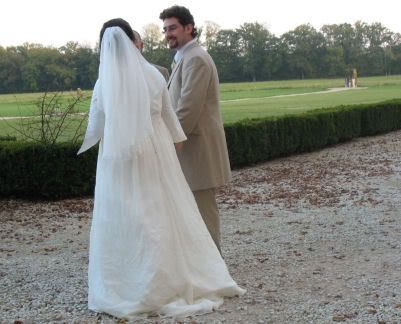 The Church: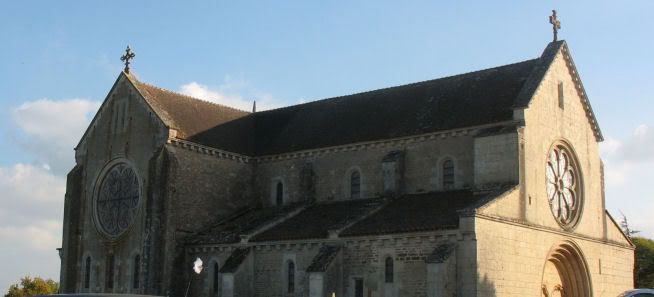 After the wedding we went to the vin d'honneur, and then the dinner reception. It was gorgeous, the food was great, and it lasted well into the evening! It just so happened that while we were in France, the Rugby World Cup was going on in France itself. During the reception, France was playing the All Blacks, New Zealand, who are known to be very good. They have this tribal dance they do before the game to intimidate the other team...it's pretty fun to watch. Anyway...the game was going on during the reception, so half of the men kept running outside to watch a snowy TV, while one guy was on the phone getting more detailed info about what happened. It turned out that France won, so that was announced at the reception and everyone cheered, lol. We were at the reception until 1:30 in the morning, and then had to drive home and didn't get home until 3:00!
The Reception location, outside: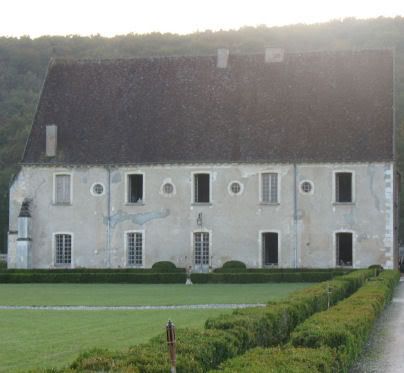 And inside: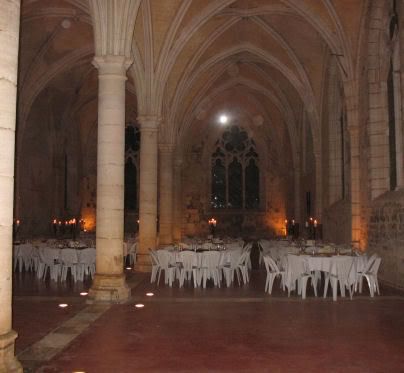 And of course, the cake!!: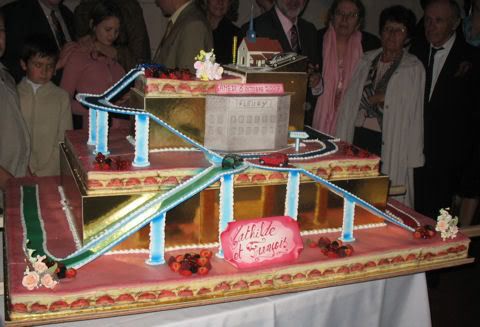 We spent the next few days in Burgundy with family, mostly relaxing and just hanging out.
Here is a beautiful local town, Semur-en-Auxois: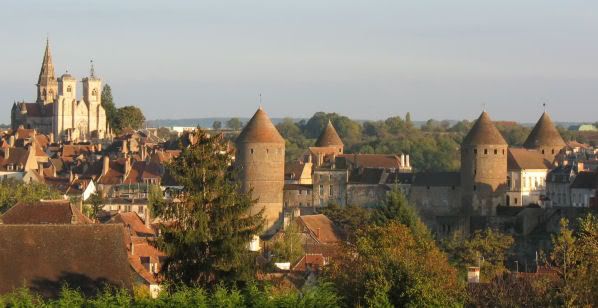 Camille and I, on our way up to visit the church where we got married (recognize the skirt? ;-):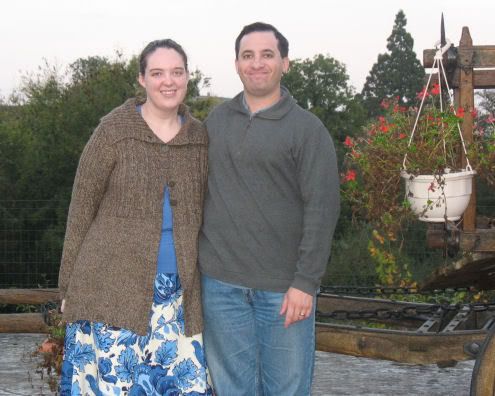 A couple of Camille's sisters: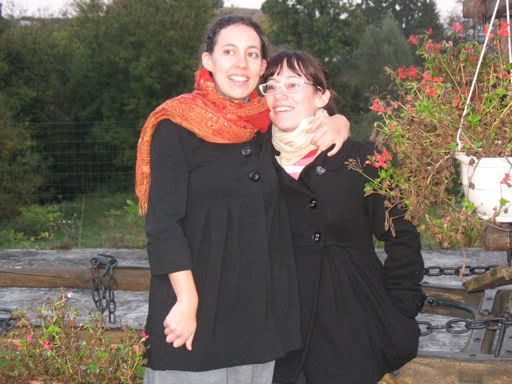 The church where we got married: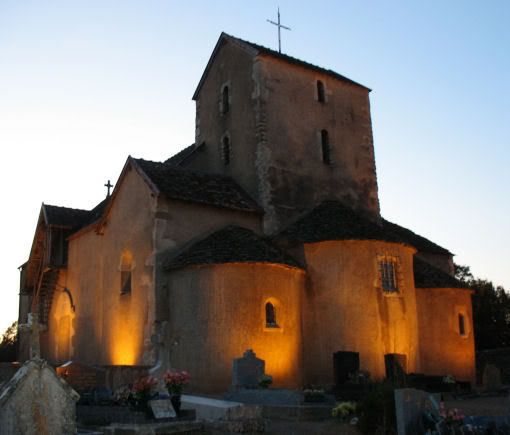 After a nice weekend, we headed back to Paris and visited around to various grandparents and aunts and uncles. The next week or so we just spent site seeing around Paris, went to the Musee d'Orsay, l'Arche de la Défense, the Catacombs, did my Christmas shopping, and just generally enjoyed ourselves.
Here are a few pics from Paris:
At the Musée d'Orsay: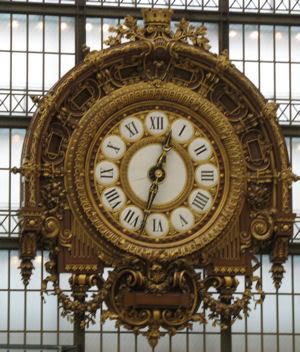 La Défense - La Grande Arche: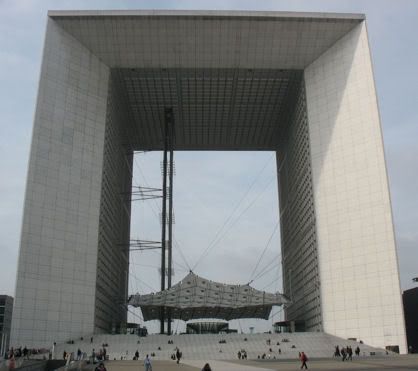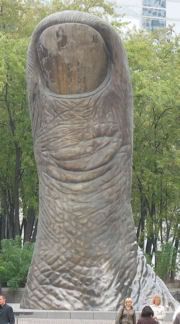 The Catacombs: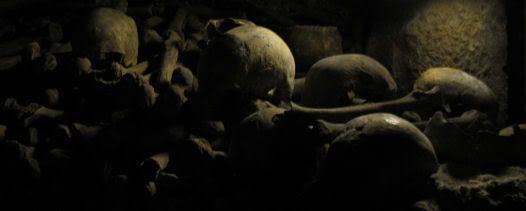 L'Arc de Triomphe: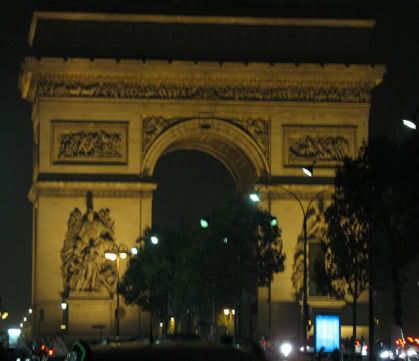 La Tour Eiffel: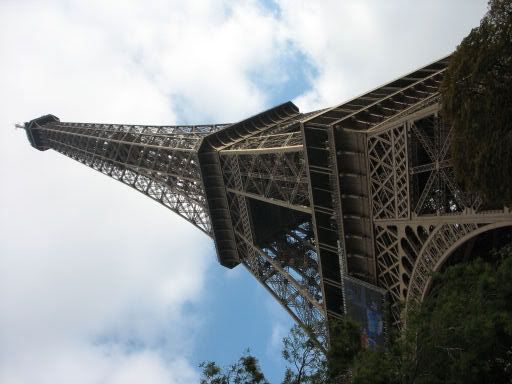 The big rugby ball underneath it: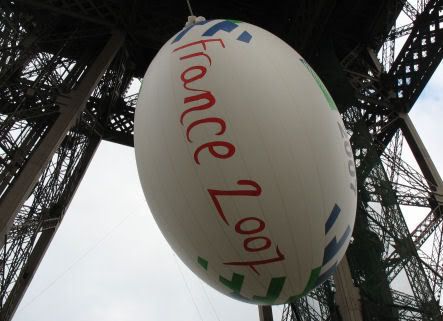 Saturday night was the France/England Rugby game! We all got decked out for the game...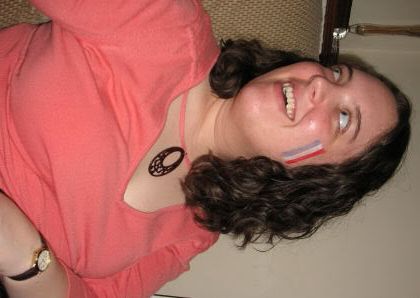 Camille and one of his cute little cousins: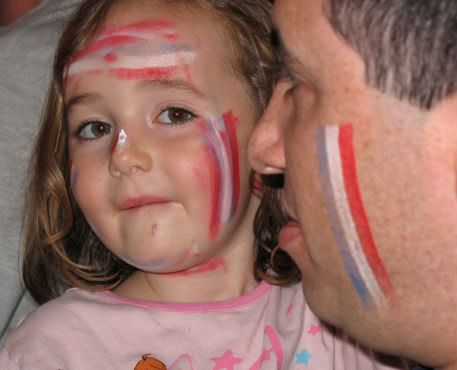 ...but unfortunately, France lost to England! Camille and his uncles were pretty disappointed!
The following Monday we headed out to Lourdes. At first we were worried because a strike was supposed to be happening on Wednesday, which was the day we were supposed to be coming back from Lourdes. The strike was going to affect all of the metro and trains, so we were worried we would be stuck in Lourdes! Fortunately, the date was changed from Wednesday to Thursday, so we were good to go! It was a LONG train ride (about 5 hours), but we arrived and walked around and visited the grotto and the church on top of the grotto. We went and looked at where the baths were, and agreed, as I'd planned, to go the following morning. We were both pretty nervous...luckily, the weather was really beautiful while we were there, it was pretty warm compared to how it had been. (Camille was not looking forward to getting in the cold water during the cold weather...so it was really good that it was warmer!)
Ste Bernadette: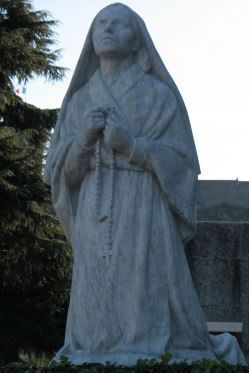 Statue of Mary:

The grotto: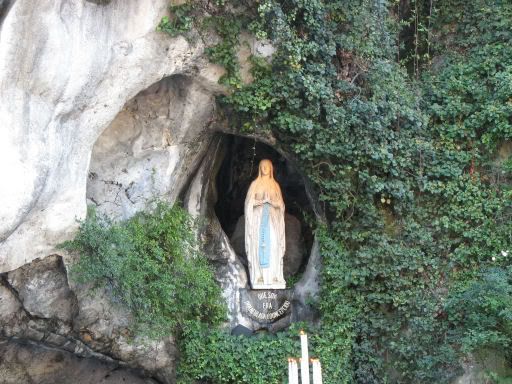 The Church above it: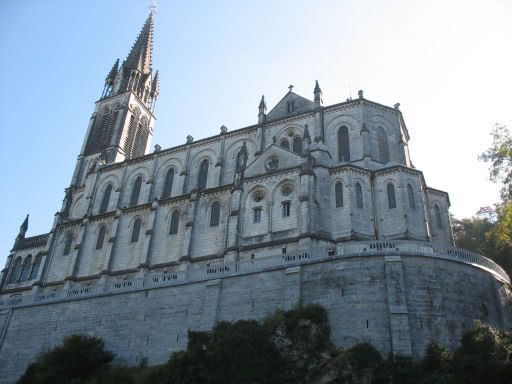 That evening we attended the procession and rosary around the grotto. It was really beautiful, everyone had candles and we sang and prayed in so many different languages. It was really amazing to see how many different nationalities were in such a small place, while being united in prayer and song, despite the language differences...it was truly catholic, truly universal. Afterwards we headed home to get to bed early since we would be waking up in the morning to go to the baths.
The grotto at night (sorry it's blurry!):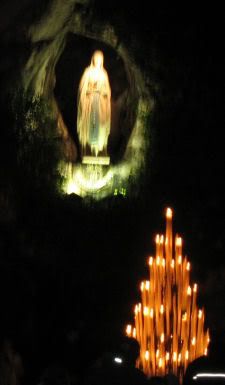 The procession: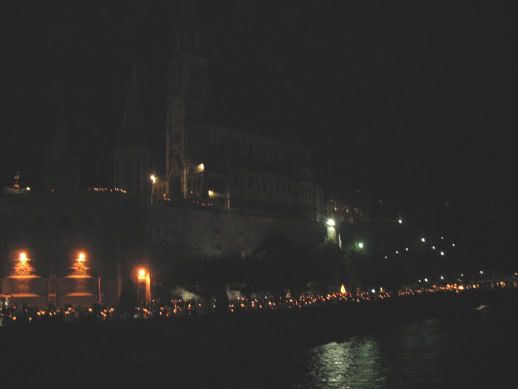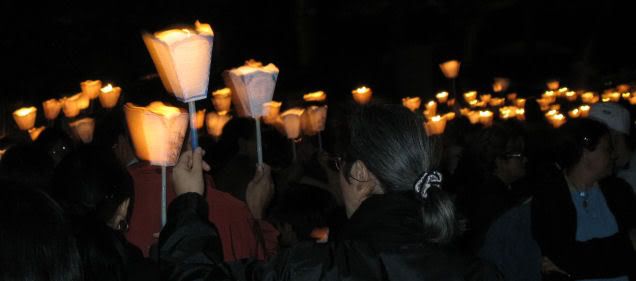 Oh!!! I almost forgot...I had internet access for a short time with one of the uncles we stayed with before leaving for Lourdes. I found right before we left that the day we were planning on going to the baths was the feast of St. Gerard!!!!! As one of my top prayer intentions was for our infertility struggles and all the infertility struggles of the ladies on the IF board, this was really SO amazing, I was just floored to realize it! It still gives me shivers!
Ok, so the baths...we went early, about an hour before they opened. There was already a line for the women, the men's line was almost non-existent, lol. They have nearly twice the amount of baths for women as they do for men, for good reason obviously. So, we sat on the benches and soon a man started to lead the rosary, again in lots of different languages. They opened the baths and the lines moved really quickly. A group of young men volunteers in their teens (obviously on a parish pilgrimage, as we had seen lots of people with green scarves on like they had) came and began to say prayers in different languages (it was so cute to see them trying to speak English) and sing songs in French. One of the first songs they sang, while I was close to going in for the baths, had me in tears. It was so sudden, but I heard them start singing a song, and thought "I know that...was it at the wedding we just attended?" And then I thought through the music I had played on bassoon, and thought no....it wasn't there. Then I realized, it was a song, about Mary, that had been sung at our own wedding. And BAM, I was nearly bawling and trying to hide my face, lol. I tried to focus and pray and ask for prayers from the Blessed Virgin and from St. Gerard to bless our already wonderful marriage with children, and the same for all those struggling with infertility. (If you'd like to hear the song, it's the one in
this video
.)
Soon after, we were asked to come inside the door. There were lots of blue and white striped curtains, with sisters helping people in and out and directing them on what to do. I was called in to come inside one of the curtains, they asked what language I spoke, and then one of the sisters held up a blue robe type thing around me as I got undressed. There were several other ladies getting dressed and undressed in the same area, and there was a white curtain in front of us, which is where the bath was. I waited to be called, blue robe clutched around me. So then I was called, went behind the white curtain, again they asked what language I spoke, and one of them explained to me that I would go in, kiss the statue of Mary at the end of the bath, then sit down in the water, and then get up. As she explained this, they were wrapping a wet (and VERY cold) white robe around me tight as the took away the blue robe. So, I walked down into the water, which yes was VERY cold, lol, and went and kissed the statue of Mary, then they said sit down, and I did, and my breath was taken away by the cold for a bit, lol. Then I got up and as I walked out they said "Holy Mary, pray for us. St. Bernadette, pray for us." Then they wrapped me again with the blue robe. I went out, got dressed, and that was it! I'm so glad we went through with it, it was a great experience.
Then we went and prayed at the grotto, I prayed for all the requests that had been given to me, and then we went and lit some candles for those intentions.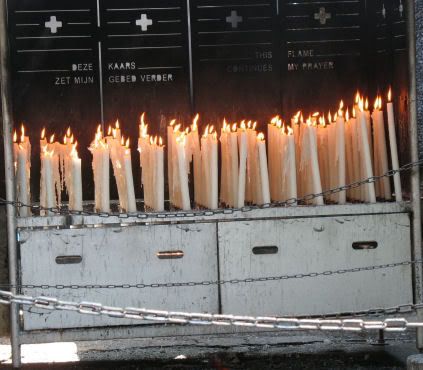 The next day we returned to Paris. Since the following day, the strike was to start, we knew we wouldn't be doing much for the rest of our time in France, which was fine. We just relaxed, spent time with family, had some great meals with them. Watched France lose against Argentina...Camille was once again really quite disappointed in their performance, and joked about being ashamed of wearing the t-shirts he'd bought, lol. The next day was the Rugby final, England against South Africa. South Africa won, so at least England hadn't won the World Cup, lol.
Oh, and of course I have to show you the lovely little Myrtille (Blueberry in English):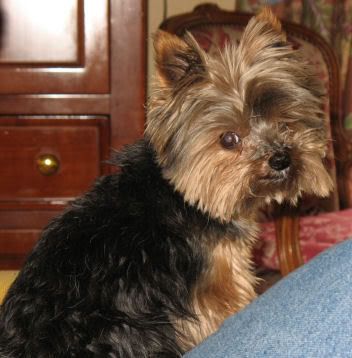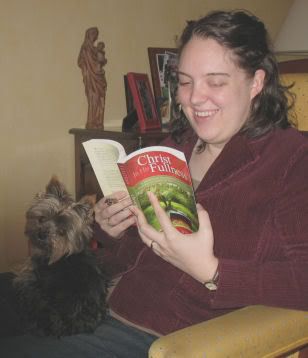 Yes, that's me reading Bruce Sullivan's book,
Christ in His Fullness
. I plan to blog a bit about it and other books I read soon!
And, that was about it! We woke up early the next morning, and waded through horrible traffic (largely because of the strike) to the airport, and began our long journey back home. We're still adjusting, still have a bit of jet lag, but we had a wonderful time, and it's possible we'll be returning this coming summer for the 60th wedding anniversary of one set of grandparents.
And, as a special little treat, the lovely photo below, in case you hadn't guessed, is Camille as a kid, lol!! I saw it while we were at their house in La Motte-Ternant, and HAD to take a picture of it.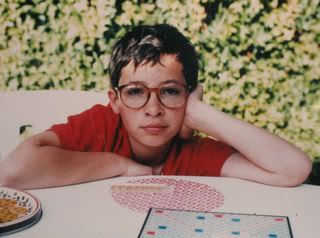 So there you have it, hope you enjoyed my little recap of our trip! :-)